The Whistling Philosopher...
About Me


My personal, philosophical development began in earnest, when I came into my early forties. It was only then, that I became fully aware of my genetically acquired pre-dispositions, namely:
i) my abilities (mechanics, electronics, playing the accordion, an interest in foreign languages, philosophical pondering and humor (!!)
ii) my three inherited, outstandig (partly latent) abilities, consisting of:
a) whistling to classical and popular music;
b) composing emotionally meaningful classical and popular melodies;
c) epistemology; i.e. processing observations into pragmatic, philosophical insight.
As to date I successfully managed to develop my emotional musical creativity of whistling to classical and popular music and my philosophical pondering, which I enjoy daily, together with the abilities, mentioned in i).
Regarding my latent ability of composing music: Unless the need arises to develop my composing talent at this very moment, I prefer to leave it for old age when I am likely 'to run out of puff' and experience difficulties whistling to music. This secures me enjoying emotional creativity until my last breath. - Life is too short to enjoy it all!

My parents and ancestors (not to be confused with 'incestors', which are our Bros & Sis :) came from former Silesia (now Poland) and so, yes you guessed it that I'm "Made in Germany", then turned Australian and now for a change into a Chilean. - That makes it easier to understand why I always regarded myself of being a somewhat "global citizen in a geographical sense, a humanist in the moral and political sense ... and "timeless in age".

- Apart from that I pride myself to be an emotional millionaire and a materialistic pauper! The wonderful exchange of virtues, I enjoyed with my dear aunt "Tante Mieze" during childhood, is now my emotionally creative, visible and even audible asset! This fact enables me to virtually 'blow much love into thin air' and always longing for highest possible note and innermost contentment and quality in my life.
My academic education ...was indeed the grey chapter in my life! - Sadly, I enjoyed only five years of public school, yet on a brighter note, enjoyed many more years of public relations, public toilets and seem far better educated at smiles & fun!
Earlier on in the piece, during my years of utter philosophical confusion and frustrations, I desperately tried to compensate the lack of academic achievements by inventing jokes. Here are some for you:

"In the past wealthy senior Americans used to flock to the Niagara Falls. Yet now, since they discovered 'secret routes' to the Viagra Rises, they are glad to forget all about Niagara Falls!" (You did enjoy this one, didn't you?) So, enjoy a couple more: My friend told me that Neon lamps are environmentally friendly. Yet, I like to believe that 'Neoff' lamps are even better at it! I asked my mate "Nimal", a great mathematician from Ceylon, where SriLanka is? - To my amazement he was able to work it out with one hand: 'Between 2 and 4 Lanka is SriLanka!', he said.

I also discovered that most English speaking people find it hard to pronounce my name 'Johannes'. Most Americans only manage to call me 'Yo-han', the English found it easier to call me 'Yourhighness', yet then again some 'sexually disoriented, naughty barnacles' went as far as to call me 'Youranus'(!) - " Worry about your own!" I replied.
Jeez, I almost forgot to mention that I somehow managed to acquire a 'certified accountant' certificate, a baker's and a truck licence', yet they were all superseded by the 'whistling licence' and now only serve as decoration for the walls of my hobby room, would you believe? :)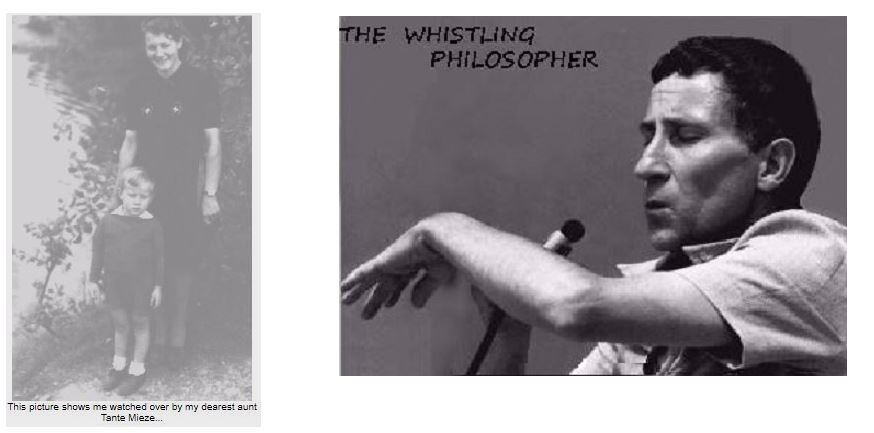 This picture shows me watched over by my dearest aunt Tante Mieze...
My musical orientation:
My favorites musicians and music: Hammond Organist Klaus Wunderlich, Daniel Baerenboim, Pino Piacentino, certain tunes of Liberace & Cleyderman Composers: Franz v. Suppe, Rossini, Offenbach, Schubert, Brahms, Schuhmann, Chopin and Mozart. Types of music: Latin music, Russian gipsy tunes, bandoneon, accordion & electronic organ music... in fact I admire and enjoy any emotionally rich and meaningful music and performers/ musicians.
My limitations:
I am neither an opera fan, nor an armchair sports enthusiast and so, leave it for the masses to enjoy! Last, not least... it might come as a shock to you that I find most classical and modern music to be plain boring! I'm rather hard to please in deciding what music is emotionally rich and meaningful, but I have my valid (personal, emotional) criteria upon which I judge (appreciate/reject) the quality of a melody.
I don't smoke tobacco, abuse drugs or use condoms. Albeit I do enjoy an occasional sip of a fine liquor, such as Grand Marnier or similar and a little stevia sweetened wine with the meal, I am less fond of beer and dislike whisky, rum, wodka etc. - I have neither time nor interest in casinos, gambling, superstitions, sexual and political perversions and pious fanaticism, yet do enjoy healthy food, distilled water and a contented lifestyle, as well moderate, regular sportive activities, such as regular walks, swimming & sexercise :)
Chances are that you are still young and/or philosophically undecided, lost or confused (like I was...), do not delay your personal, philosophical development any further! I had no choice, for I was unable to find suitable philosophical guidance and so, struggled some 30 odd years with my own philosophical development. You have a choice (!),because my (bargain priced) philosophical books "A Guide To Personal Contentment" are available to you. No academic or pious pre-requisites required... Let's face it: If I, with my academic shortage was able to do it, I can't see why you should fail.